E-PROCUREMENT MARKETPLACE
The National Association of Housing and Redevelopment Officials (NAHRO) is the Nation's largest Association of Housing and Community Development Officials with over 3,200 Housing and Community Development Member Departments and 20,000 Associates. As such, NAHRO is the leading housing and community development advocate for the provision of adequate and affordable housing. For Vendors, EProcurement offers immediate notification of requests for information, requests for service, or requests for proposal or quotation from buyers. For Buyers, EProcurement offers instant access to their existing list of vendors or an expanded pool of vendors in the geographic range of their choice. Click here for a link to the NAHRO EProcurement system. Click here for a link to the NAHRO eProcurement system.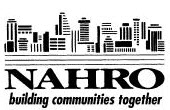 The following instructions are to be used on the E-procurement Portal.
Click on "Sign up now as a Vendor".
Enter your company name and click on "Search Companies".
If no company was found, click on "Click here to create a new one". (If your company was found, follow instructions to sign up as a salesperson for your company. You will submit and once the contact person that had signed up previously for your company verifies your information, you will then be emailed a password)
Fill out all required fields with information about your company on the first page, check off all commodity/service codes on the next page. Once you receive a thank you for registering page, click on "Continue".
Click blue log-in button located in the upper left-hand area.
Enter your email address and password to enter our marketplace. You will be prompted to check a site usage agreement before entering our Marketplace. Once you check this box and click submit, you will then be allowed to enter.
If our Housing Authority comes up when you enter our marketplace, click on the request and follow instructions. If you enter on any other page, click on scan requests by agency on the left hand menu area, locate and click on our Housing Authority. From there you will be able to view any live bids along with following directions to download documents and instructions on how to submit your response.
If you have any technical questions pertaining to the registration process, please call customer support at 1-866-526-9266, or email customer support. Staff is available from 9:00 a.m. to 7:00 p.m. (EST).